Over the summer, it's always nice to have fresh produce at your disposal. In my weak attempt at trying to avoid pasta and pasta salads (this won't last long) I've pivoted to using a different starch. Turns out, the whole Pasta vs Potatoes debate has some pretty interesting nutritional facts around it.
According to some stats from FoodStruct.com, potatoes are superior for particular types of diets. The use of potatoes in dishes seems to favor low calorie, low fat or low carb diets, while pasta is better for low glycemic index diet because of the natural sugars in potatoes. In the end, while I'm no nutritionist it at least makes me feel good to know there are some measurable benefits of substituting potatoes for pasta in my food prep salads.
Ever since I was young and my grandma let me come over to make her family-favorite pasta salad, I've found great comfort in these side dishes. As an adult, I now look at the version from grandma as something that constitutes a meal. Her "recipe" contained as many fresh vegetables as she could get her hands on – many grown from her own garden. It was a mayo based pasta salad laces with tuna fish. But to call it a recipe wasn't accurate, it was more of just a general prep style because the ingredients changed go frequently. I particularly liked the inclusion of fresh green onion, radishes, and minced carrots amongst all the other garden fresh vegetables.
The "Not-A-Recipe" below includes a personal diet hack that I've only recently begun employing … adding fresh BROCCOLI. This may not sound like a hack to most, but for some reason it was never included in summer salads growing up. Perhaps adults around me didn't like it as much unless it was covered in cheese? No matter the reason, I find it is an effective way to stretch a salad in a filling way. Broccoli is fresh, nutrient rich and takes up more space in the bowl to I'm effectively eating less.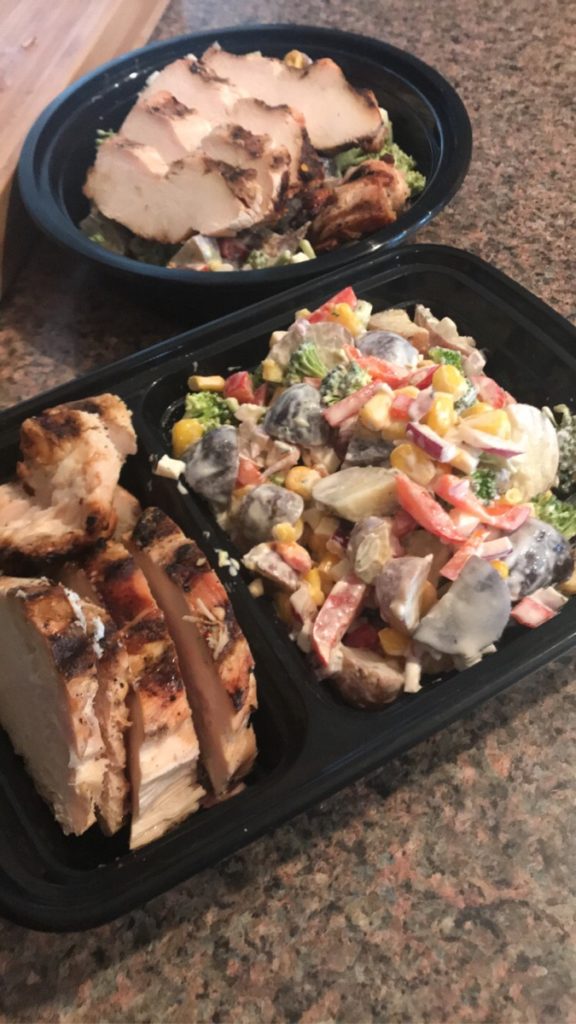 My "Not-A-Recipe" Recipe For Broccoli & Potato Summer Salad
1 lb parboiled bite-sized potatoes (quartered before boiling)
1-2 crowns broccoli, chopped
1 whole red bell pepper, seeded & diced
Half medium sized onion, diced
1/2 c Frozen corn
Dried dill, salt and pepper, to taste.
Toss all items in 1/2 cup light mayo. The mayo stretches to dress the salad nicely when mixed thoroughly.
This is of course my make-ahead version of the salad. I divide this into meal prep containers for refrigeration. As the frozen corn thaws, it helps the dish retain an overall moisture level since there is so little mayo used. I would not use frozen corn for something I'd plan to eat within the hour.
The salad is super filling and pairs great with some grilled chicken breast.