Annually, it's been the tradition in our household to make a "Feast of Seven Fishes" as a fun tradition since 2012. After our 10th Christmas Eve dinner ended last night we decided we needed to update with our latest rendition of this recipe.
There were a few things we wanted to address with this re-write. The original recipe, "Cioppino, our Feast of Seven Fishes" yielded far too much waste as we didn't have the desire to reheat this soup for the 2-3 extra meals it made.
We only need dinner for two but didn't feel confident in dividing the recipe for the soup base. Instead we decided to make a normal sized batch of soup base and use a portion of it for the actual meal. There was approximately 3-4 cups of extra soup base to make a second soup. The reserved base went into the freezer for a Valentine's Day soup.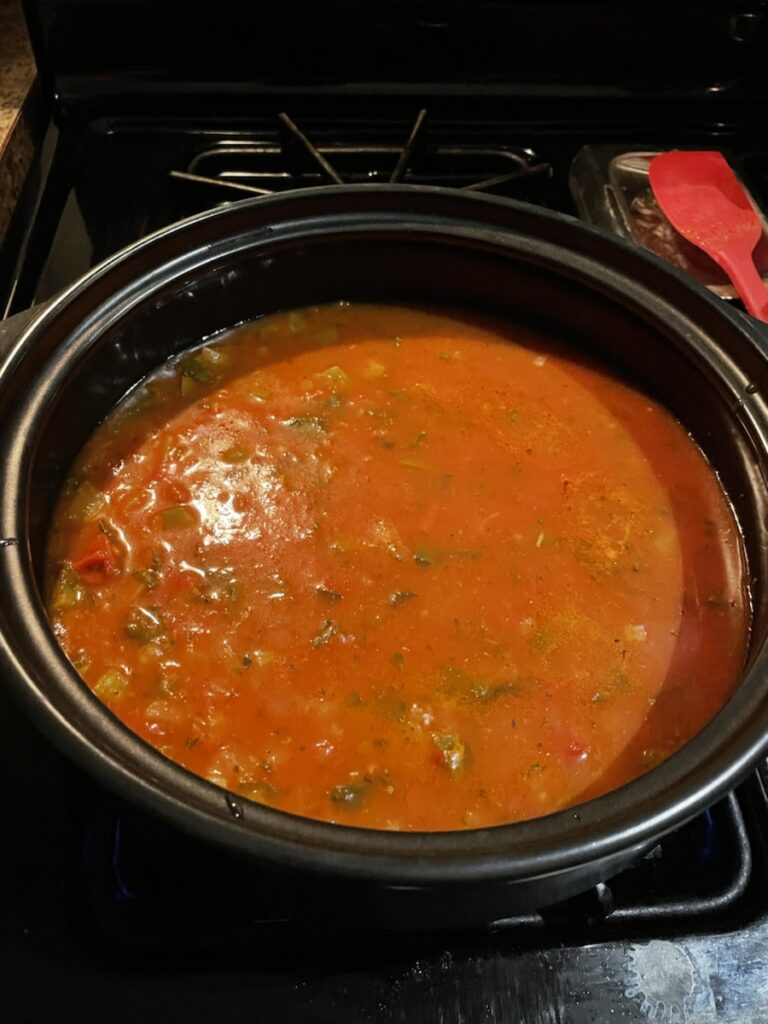 You'll notice only slight modifications to the amount of fish used in the actual cioppino. This was intentional. We have used the same base-5 fishes for years. Lobster, mussels, crab, shrimp and scallops. The other two fish are always wild cards so we can experiment with different textures and tastes. Ultimately when we walk into Wholey Fish Market on Christmas Eve morning, we make a game time decision. This year was opted for a pre portioned swordfish and wild sockeye salmon from the fish counter.
Lastly, we decided to lighten the meal by pairing it with croissants instead of a hearty bread or baguette. While the soup base is delicious, the bread only added to how filling the meal was. The buttery croissants were a light, delicious pairing. I could also foresee using a garlic Texas toast option in the future since it is just as buttery and fluffy.
TasteBuds Seven Fishes Cioppino
SOUP BASE
3 tbsp butter
1 c onion chopped
1 c green pepper chopped
1 stalk celery chopped
2 clove garlic, minced
sm bunch of parsley chopped
1 28 can of crushed tomatoes (seasoned)
1 32 oz box chicken broth
1 bay leaf
1 tsp basil
1/4 tsp thyme
1/4 tsp oregano
1/4 c. water
1 c. white wine, chardonnay
FISHES
6-8 medium sized tiger shrimp
6 ounces bay scallops (small container)
1/4 package mussel meat
2 lobster tails
4 oz (wt) crab meat, claw is fine
1 small sockeye salmon filet, approx 4 oz
1 small swordfish steak (frozen – ok)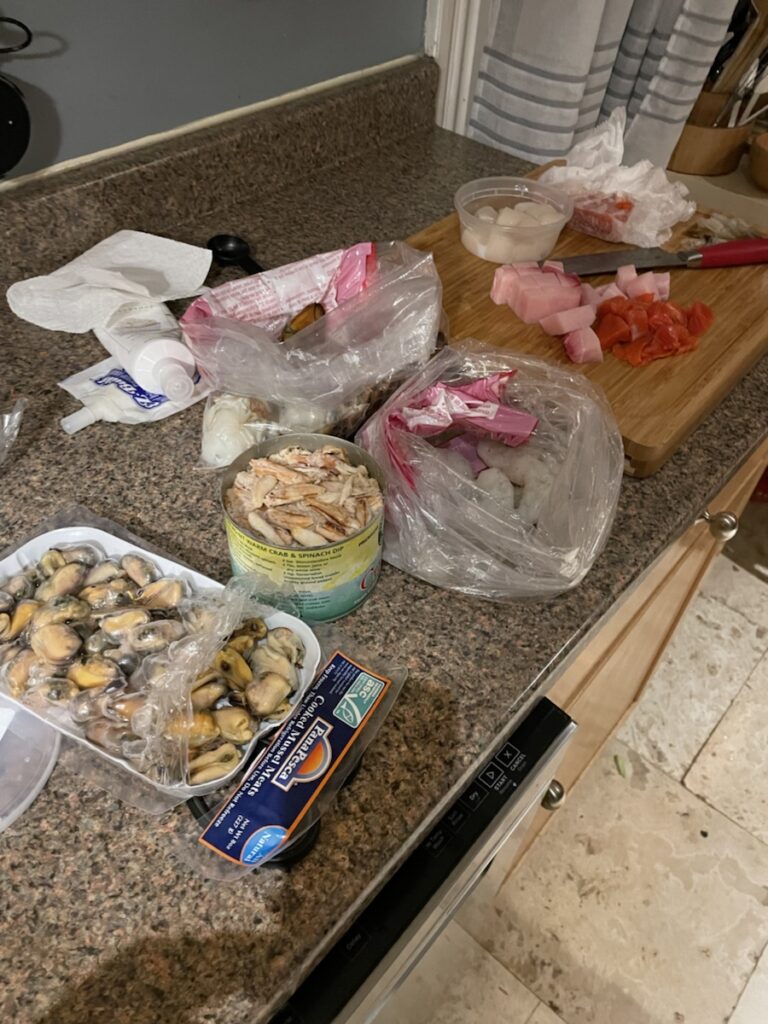 Directions:
Make Soup Base
1. Over medium-low heat melt butter in a large stock pot.  Add onions, celery, garlic and parsley.  Cook until onions are soft.
2. Add tomatoes, chicken broth, bay leaf, basil, thyme, oregano, water and wine.  Cover and simmer for 30 minutes.
– – This is where we turned off the soup, left covered and went to a candlelight Christmas Eve mass. The soup sat for 3 hours before making the dish.
Assemble Cioppino
3. To make this in one-pot, set aside 1/2 to 2/3 of the soup base for anticipated leftovers. This year, since we were testing proportions, we used a separate Pampered Chef 2.5qt RockCrok as perfect size for 2 people to ladle several scoops of broth. Be careful not to start with too much base, because the fish will take up a lot of room in the pot. You can easily add more, but not take away. Bring soup base up to a simmer med-high heat, approximately 5 minutes.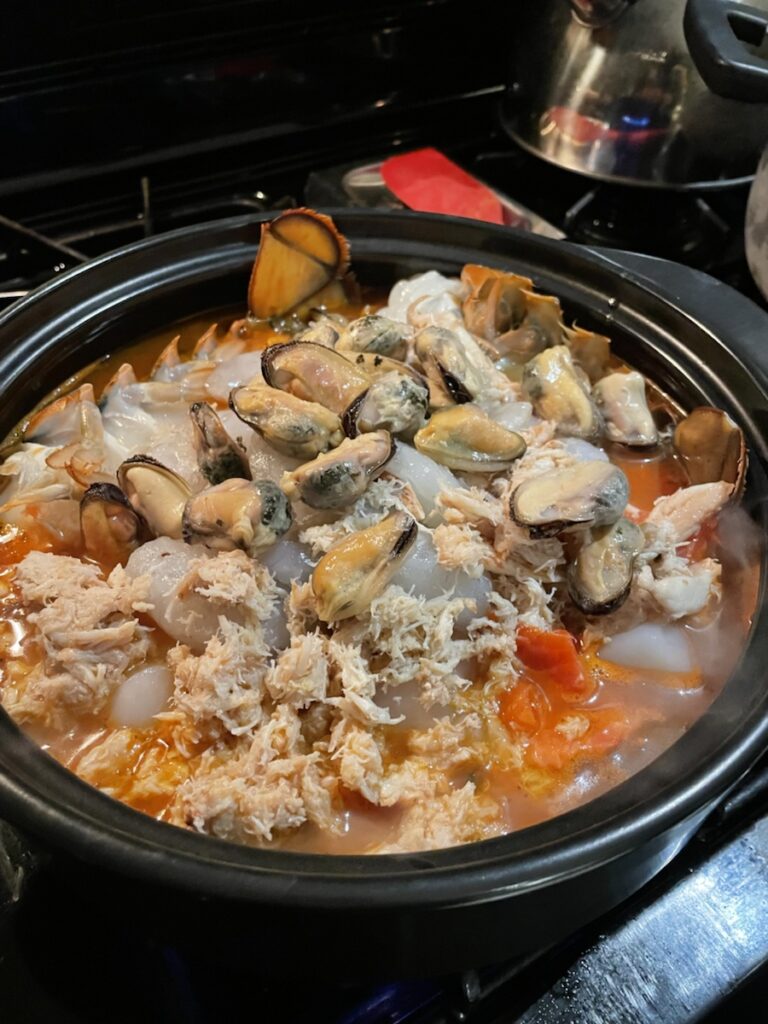 4. Stir in all seafood in longest-to-cook to shortest-to-cook order.  This was swordfish, salmon, lobster tail, scallops. Since it is precooked, add the mussel meat and crab last. Top off with additional base if you need it. Bring to a simmer over med-high heat then reduce to med-low to slow the cook and allow the base to absorb the fish flavors.
5. After total of 5 to 7 minutes simmering, serve warm with a crusty bread, or warm croissants.
We put the Pillsbury buttery croissants into a preheated oven at the same time as the fish, this turned out to be perfect timing for everyone to be ready at once.