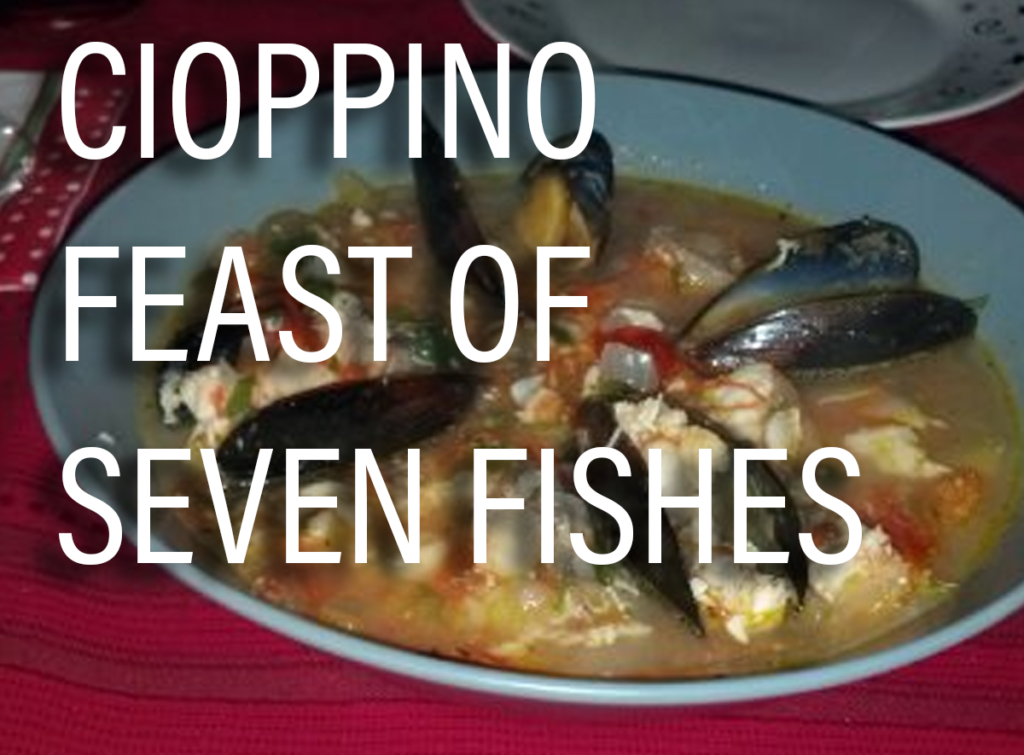 Our Feast of Seven Fishes has been a tradition since TasteBudA and I have been together. Even though neither of us are Catholic where this tradition stems, on Christmas Eve we gather and enjoy our version of a Feast of Seven Fishes, but we do it in one pot – a Cioppino.
Read The Making of a New Christmas Eve Tradition >>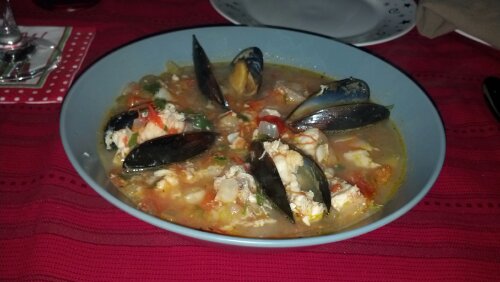 So, after 4 years of making it, it's time to document the recipe.  In 2013, this resulted in the best recipe because we made the broth, then went to a candlelight Christmas Eve mass.  Upon returning from mass, heated the broth to boil and added the fish.  The more time your broth has to simmer, then sit, the better the flavor develops.
TasteBuds Seven Fishes Cioppino
3 tbsp butter
1/2 c onion chopped
1/4 c celery chopped
1 clove garlic, minced
sm bunch of parsley chopped
8 small tomatoes, chopped (approx 32 oz)
1 (14 oz) can chicken broth
1 bay leaf
1 tsp basil
1/4 tsp thyme
1/4 tsp oregano
1/4 c. water
1/3 c. white wine
8-10 medium sized shrimp
6 ounces bay scallops
12 mussels
1 cod filet, approx 6 oz
1-2 lobster tails
1 small shark steak
8 oz crab meat
Directions:
1. Over medium-low heat melt butter in a large stock pot.  Add onions, celery, garlic and parsley.  Cook until onions are soft.
2. Using a food processor, or chopper, chop 2 tomatoes.  And the 2 chopped to the pot.  Add the other 6 tomatoes to the pot in chunks.  Add chicken broth, bay leave, thyme, oregano, water and wine.  Cover and simmer for 30 minutes.
– – This is where we turned off the soup, left covered and went to a candlelight Christmas Eve mass.
3. Bring soup back up to a simmer.  Stir in all seafood in longest-to-cook to shortest-to-cook order.  This was shark,cod, lobster tail wrapped in aluminum foil, scallops, mussels, crab.  Simmer. After approx 3 minutes, lobster should be steamed, so remove it from aluminum foil and add meat to soup.
4. After total of 7 minutes simmering, serve warm with a crusty bread, or warm croissants.