To attempt a healthier me in 2016, I am now targeting my midday nourishment to make some changes. The first hurdle is that my work office only has a toaster oven
and an electric kettle
to cook with. What can be made that isn't a frozen processed food in a box? I thought why not focus on the electric kettle (it was a Christmas gift). How about Vietnamese Pho.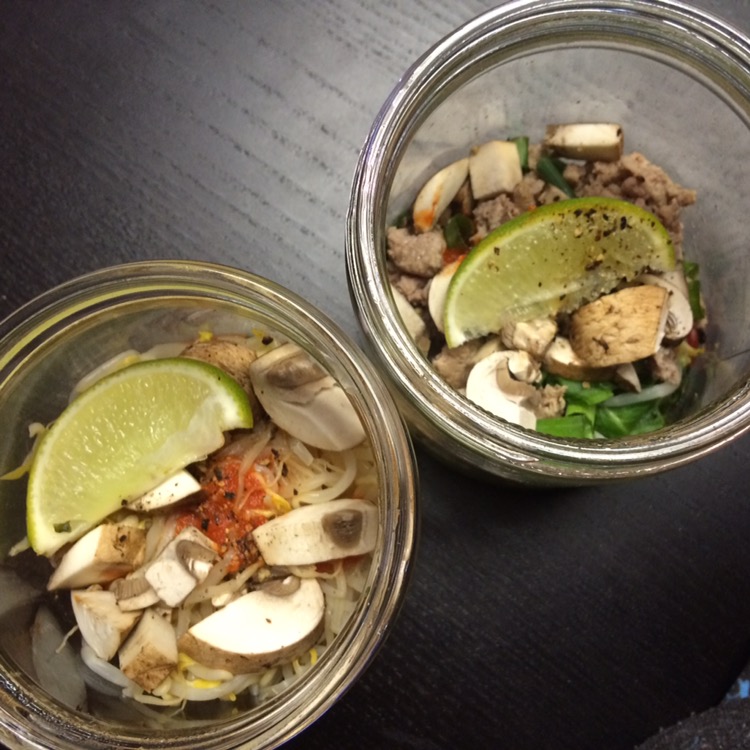 So I found an article about Pho in a Jar. I've never really been big on actual recipes, so I used it for inspiration. I bought a 12-pack of 16 oz. jars and went off to get some fresh veggies, rice noodles and ground turkey as soup filling. The recipe calls for Miso soup base
, but that isn't easy to find in a regular grocery store.
Since I couldn't find a Miso base, my first batch of Pho uses a chicken stock base. There were two different recipes I concocted. Here is the first:
---
Fake-Noodle Pho
1 tsp chicken soup base
3 to 5 oz fresh Asian vegetable mix (carrots, onion, snow peas, zucchini, red pepper)
3 oz bean sprouts
3 oz cooked ground turkey
1 lime wedge
soy and/or sriracha to taste
Step 1: Place soup base at the bottom of the jar. Layer with fresh vegetable mix (ensure the vegetables are chopped small enough that they can be eaten with a soup spoon), bean sprouts and ground turkey.
Step 2: Lay lime wedge on top. Add a shake of the soy sauce bottle and a small squeeze or sriracha, if desired. Close jar and refrigerate at least 8 hours.
The jar which rested over 24 hours packed more flavor, so Patience makes the Pho grow stronger.
Lunchtime: Open jar and add boiling water. Lightly cover and let rest for 5-8 minutes. Remove lime wedge and stir. Enjoy.
Lessons Learned:
– Don't squeeze the lime wedge, the citrus/acid will be too intense. Resting the lime in the jar was plenty effective. I plan to try lime zest next time as an experiment.
– I added a shake of fish sauce to one and the fridge marination resulted in an intense smell. I didn't feel it added enough flavor to the Pho.
– Don't be afraid to pack the jar with extra of your favorite ingredient. During the marination and addition of water, it will lose some volume.
---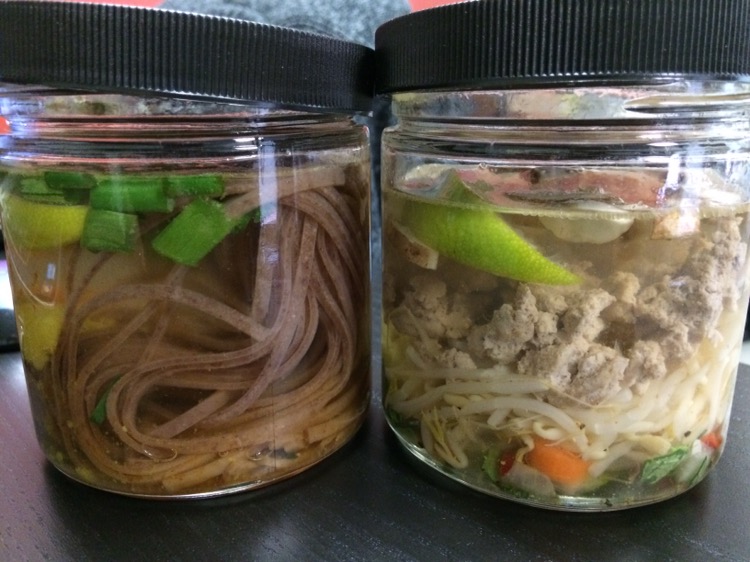 I look forward to trying it with a Miso base, with tofu, shrimp and other great combinations. Have a flavor combo that I should try? Comment below.