Today's post comes from Nadine of Pittsburgh Mommy Blog, and is part of a special day of shenanigans from other Pittsburgh Bloggers. You can see my post over on Don't Forget to Eat!, where I discuss the dinner we had while in Jacksonville, Florida at BB's restaurant.
---
Over this past winter, I found myself in a "blah" place that is unusual for me. Usually, I embrace the carpe diem philosophy and all the fun it entails. But, I'm ashamed to say–I was a bit bored this year. In order to make the winter months pass a little faster, I decided to explore new (to us) local restaurants that would a) introduce my kids to world cuisines and b) would be kid-friendly enough to take my 3- and 4-year olds. Here are four of the restaurants we visited and what we thought of them:
Everyday Noodles in Squirrel Hill
Our first stop on our Winter Restaurant Tour was Everyday Noodles on Forbes Avenue in Squirrel Hill. And we've been there nearly every week since! Tamari restaurant owner Mike Chen and his son Allen opened Everyday Noodles to bring authentic Chinese cuisine to the masses. And although I don't know that much about authentic Chinese food, I have to say that the restaurant is our number one go-to eatery now. My husband and I always get the slightly spicy Dan Dan Noodles Szechuan Style, my kids always go for the Cold Sesame Noodles with Chicken and we always split an order of Pork and Vegetable Potstickers. Family-friendly perks: wait is never long, service is extraordinarily fast, its affordable, they have attachments for chopsticks so the kids can try them out, the visiting Taiwanese chefs prepare noodles behind a glass window they can see through and the hostess will give you a bit of dough to play with if you ask nicely.  
---
Sukhothai Bistro in Squirrel Hill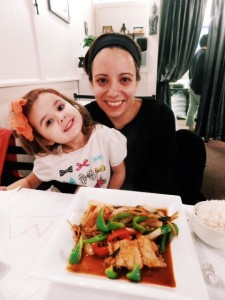 Located just down the street from Everyday Noodles in Squirrel Hill, we decided to check out Sukhothai Bistro later this winter after finding a wait at our usual Thai eatery, Smiling Banana Leaf in Highland Park. Although we were initially wary that the restaurant would be too fancy for kids, we quickly learned they were welcome. The kids loved the chicken satay dipped in the peanut sauce and the vegetarian crispy rolls. They also munched on some pad thai. I had the Crispy Fish and LOVED it! Our highlight was definitely the fried bananas with chocolate drizzled over it for dessert. Family-friendly perks: the tablecloth is covered with white paper and, if you ask, the servers will bring some crayons so kids can draw while they wait for food. 
---
Tana Ethiopian Cusine in East Liberty
Although I know Tana Ethiopian Cuisine has been around for awhile, we used to visit the other Pittsburgh Ethiopian restaurant Abay before it closed and we had kids. I was definitely wary about visiting Tana with children, since I wasn't sure they'd dig the flavors or the style of eating (all the food comes on a big tray and you use injera, an Ethiopian flatbread, to scoop up the food with your hands). However, I was pleasantly surprised to find my kids loved the food and the experience at Tana. We even sat at one of their mesobs. We started the meal with sambusas, an Ethiopian take on samosas stuffed with minced beef. Then we all split the Tana sampler with five meat and vegetable dishes served on a tray with injera. My personal favorite was the Doro Wat with a spicy berbere sauce. Kids loved the Doro Tibs with chicken in very minimal mild sauce. It was really, really excellent!
---
Dobra Tea and Vegetarian Restaurant in Squirrel Hill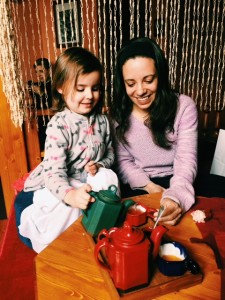 I first visited Dobra Tea with my husband for a belly-dancing/drum circle date night. The experience was so great, I decided to take my daughter back for lunch one weekend late this Winter. Dobra Tea is truly unlike anything else I've found in Pittsburgh. It really feels like the Middle East at Dobra Tea. There are raised carpeted platforms hiding behind walls of beads. After you remove your shoes, you can climb up and sit on the floor or on pillows at small circular tables. After you've perused the menu, you ring a bell and a capable waiter miraculously appears moments later. Though many people just come to Dobra for its extensive collection of global teas, they also have a vegetarian menu. And it's made up of the sort of finger foods that little people like. I always get the Pita Dahab with pita bread, feta, olives, tomatoes–all topped with a delicious sprinkle of cardamom. They also have hummus, dried fruits and nuts and lots of fresh veggies to choose from. And herbal teas for the little non-caffeine drinkers.
Anyway, I look forward to continuing the tour. If the weathermen are right, perhaps we'll turn our attention to dining al fresco!
Nadine Champsi is the founder of the Pittsburgh Mommy Blog, editor of Kidsburgh and a contributing editor at NEXTpittsburgh. She's dedicated to helping Pittsburgh families lead happy, healthy and adventurous lives in the best city to raise kids!
---
The following blogs participated in today's Pittsburgh Great Blogger Exchange:
The AP Collection Beezus Kiddo Pittsburgh Happy Hour Orange Chair Blog In Pursuit of Simple Lucy Quin The Wheezy Runner Pittsburgh is Beautiful Last Minute Panic The Almond Eater A Body of One's Own Lunges, Long Runs and Lattes Downtown Living Emily Levenson Parmesan Princess Oh Honestly, Erin Sole for the Soul Crank Crank Revolution The Pittsburgh Mommy Blog Yum Yum PGH Ya Jagoff Gardening in High Heels Sean's Ramblings Pittsburgh Taste Buds The Foodtasters My Blog n'at The Fashionable Eye jelly jars Don't Forget to Eat Small Town Dad Josh's World The Steel Trap In Pursuit of Happiness 101 Achievements A Librarian's Lists and Letters Pennies, Pints, Pittsburgh 30-Something therapy Red Pen Mama Nicky D. Cooks everybody loves you…