#5 Winghart's Whiskey and Burger Bar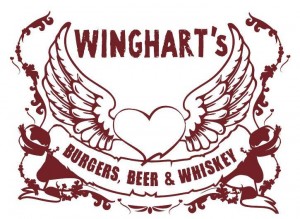 Located in the heart of Market Square next the iconic Primanti Brother's, Winghart's is a true burger joint focused on crafting burgers from the fresh – never frozen – meats.  You can tell the burgers are handmade by the chefs on a made to order basis, because the patties never arrive in that perfect round circle you get from frozen patties.
Winghart's has been featured on the TV show "United States of Bacon" and won numerous local awards for their burgers.  They offer a series of signature burgers with clever toppings like pancetta, carmelized onions, and pineapple.  The Dockworker, based on its ingredients, is a ode to the Primanti's sandwich served with coleslaw and fries on a fresh burger.
Picky eaters can keep it simple and build their own burger, or select from other non-burger menu items.  However, if you are going to Winghart's and not going to order a burger, it's like going to Red Lobster and ordering the chicken.