#4 Emporio: A Meatball Joint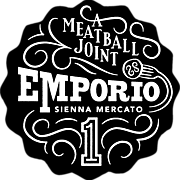 The restaurant's menu, as the name suggests, is all about meatballs.  This brand new restaurant on Penn Ave across from the Courtyard Marriott between 9th and 10th streets. You can get them on sliders, in a panini or in a grinder.  For non-sandwich people you can have them served any side dish, like pasta, rice, quinoa and more.
They also have four variations of meatballs and a myriad of sauces so each person can really build-their-own dishes.  The downside, is that unlike other restaurants on this list, meatballs is really all they have to offer other than first-course appetizers, soups and salads.  There is a Meat-less-ball made of mushroom, white bean and cauliflower, so the menu is friendly to vegetarians.
So, if giving your picky eater is the control to make their own meatball combination works, then Emporio may just have something for you.