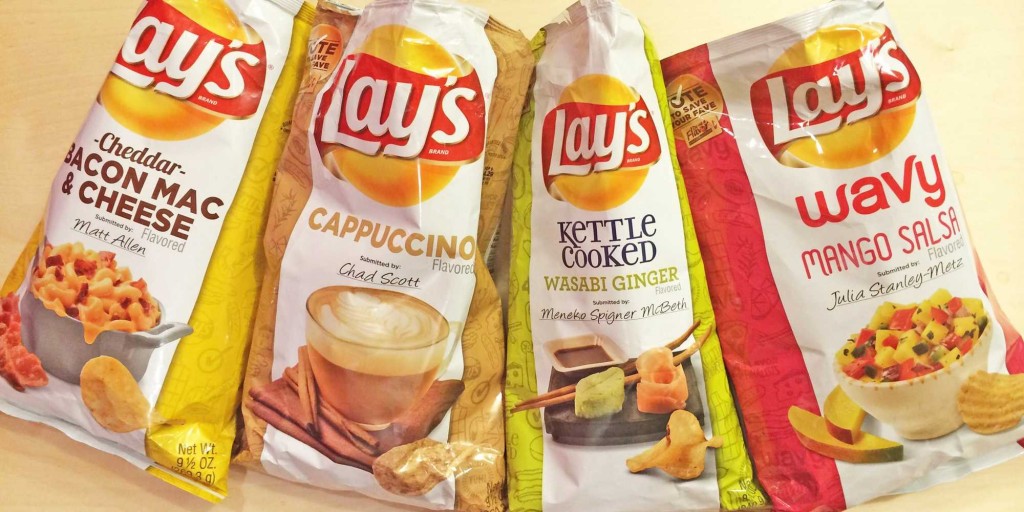 Lays is at it again, trying to find the best new potato chip flavor in America, and not sure that any of the options are really "in the bag". So far, I have had three of the four "Do Us A Flavor" contest varietals. Cappuccino, Mango Salsa and Wasabi Ginger.
Cappuccino
The Cappuccino flavor, submitted from Chad Scott in Iowa, was probably my favorite of the three, though it didn't really give me what I want from a potato chip. When I eat potato chips, it's because I want something salty. This wasn't that kind of chip. The Cappuccino flavor was well balanced and yes, it tasted like a cappuccino, but this was a breakfast chip.
The best equivalent that I can think of was that you'd eat the Cappuccino Lays with the same things you'd accompany a piece of coffee cake. Like coffee cake, the chips are dry and leave you wanting a quenching cup of coffee, tea or milk. It wasn't something you want to have with a beer, like your typical potato chip.
Mango Salsa
The Mango Salsa flavored Lay's are a "WAVY-Lay". Apparently Julia Stanley-Metz, of San Francisco, California, can't get enough of the mango salsa her husband makes so she thought it would make a good potato chip. I would only go so far as to say it wasn't bad. But the flavor is better suited to a bag of Doritos than Lay's. The slightly sweet mango comes through in the chip and the "salsa" flavor reminds me of the varying, heavy-handed seasoning that you get from Doritos. Using the thicker, wavy potato chip was a smart choice by Lay's because you needed the ridges to capture the seasoning and give it that extra crispness. After tasting this chip, it was clear to me that I prefer my salsa and chips separate. I'll dip my own salsa, thanks.
Wasabi Ginger
The Wasabi Ginger flavor was actually something I ate by mistake at a fantasy football draft. Among friends that typically like to talk food, the kettle cooked chips were just sitting on the table and I snagged one and had to do a double take. Not knowing what I was eating, I initially thought it was a horseradish chip. According to the Huffington Post, this makes sense if in fact "most of the wasabi served outside of Japan is a mixture of horseradish, mustard and food coloring."
Frankly, the chips weren't all that good. Crispy, yes. Though when I think of wasabi, I think of the spiciness that you get when you add it to soy sauce. The chips weren't really spicy, but rather had a the back of your throat bite that I like from horseradish. After just one bite, I wasn't reaching for a glass to cool my mouth – I wanted to get the taste out of my mouth.
---
So – 2014 Lay's "Do Us A Flavor" contest, based on these three, you have no clear winners this year. They were all different and while don't necessarily regret trying them, there is nothing that I would go back and buy again. Better luck in 2015.