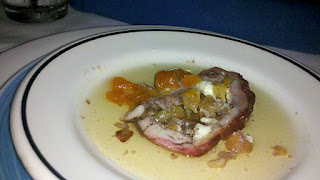 Apricot, feta and walnut stuffed tenderloin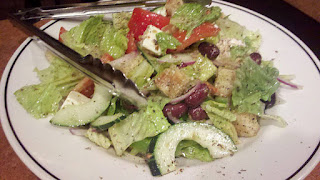 Ellinki Salad, served family-style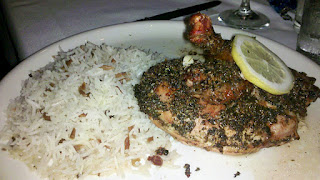 Lemon chicken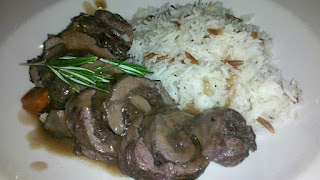 Arni Sto Fourno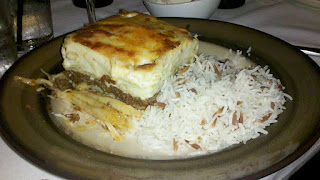 Pastitisio (Greek Lasagna)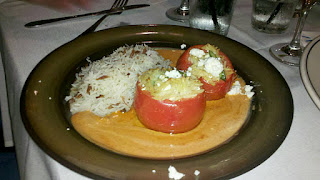 Domates Gemistes
Our wine exchange last night went wonderfully. Mediterrano could not have been a better, more generous host restaurant. The food was spectacular and folks seemed pleased with the gift wines they received.
For a $30 fixed price meal (all inclusive of tax, tip and corkage) the group enjoyed a light appetizer, a signature salad and a choice of four entrees. Much to our surprise and delight, the chef prepared a special additional appetizer of a feta-walnut-apricot stuffed tenderloin.
The father-daughter duo, Helena and Frank Erdeljac, orchestrated a great night and generously donated a gift basket including gift certificate, Greek wine and tickets to Electra, a production of the Pittsburgh Public Theater.
As the night came to a close, we were fortunate enough to thank our friend Grace who introduced us to the restaurant with a surprise birthday dessert. As coincidence had it, the event was scheduled on her birthday.
Thank you to all of our attendees for their continued support. We look forward to our third annual holiday event where we look to drink and be merry, whilest supporting the local Toys for Tots campaign through a toy drive on December 6 at Cornerstone Restaurant.
WINE EXCHANGE MENU
Appetizers:
Kalamata Tapenade with warm pita
*Meat and Vegetarian Grape Leaves available a la carte*
Salad:
Elliniki Salata – Classic Greek salad of crisp chopped tomaine, vine-ripened tomatoes, cucumbers, peppers, caper berry, red onions, kalamata olives and feta, with garlic croutons, dressed with Mediterrano house vinaiagrette.
Choice of Entree:
(A) Pastitisio (Greek Lasagna) – Layered Greek pasta with aromatic meat sauce, baked with a bachamel sauce.
(B) Arni Sto Fourno – Roasted boneless leg of lamb with rosemary and other aromatic herbs.
(C) Lemon Chicken – Half roasted chicken marinated in lemons and Greek oregano.
(D) Domates Gemistes – Tomatoes stuffed with asparagus, feta and orzo with a cinnamon infused roasted red pepper sauce.