Does Memorial Day signal the start of summer to you? We don't just grill in the summertime, it's more of a year-round activity or as close to year-round as Pittsburgh weather allows. This grilled, marinated flank steak makes for a great dinner. When there are leftovers, it's still very versatile … but that is WHEN there is leftovers.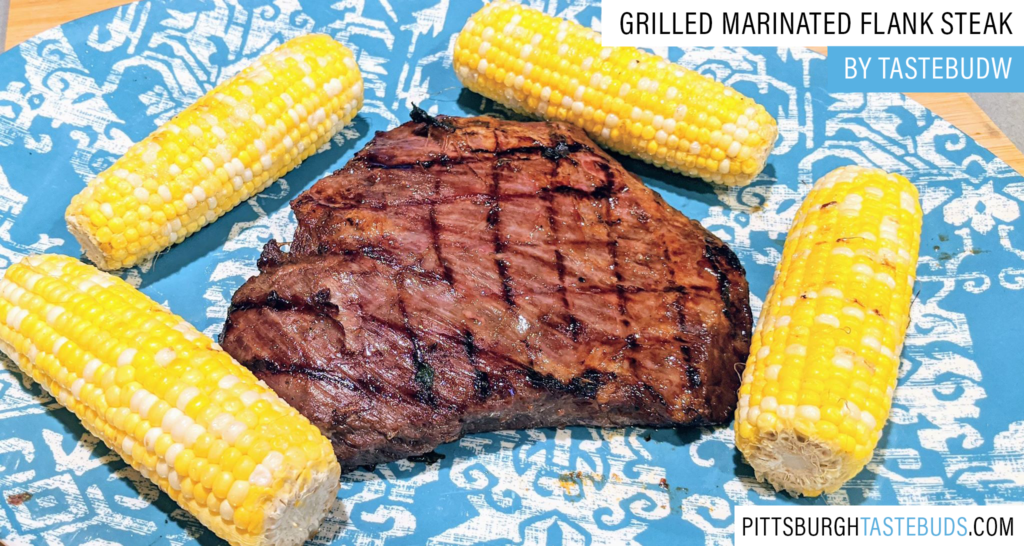 Ingredients:
2-4 lb flank steak
3/4 cup reduced sodium soy sauce (I use tamari or coconut aminos for a gluten free option!)
1/4 cup vegetable oil or light tasting olive oil
1/4 cup honey (try a spicy honey like Mike's hot honey for an extra kick of flavor)
1/4 cup water
3 scallions, green and whites, sliced
4 garlic cloves, chopped
Directions:
In a large ziploc bag, combine all ingredients – except flank steak. Seal the bag and shake/mix well in the bag to combine the ingredients. Add flank steak to marinade and seal bag, removing as much air as possible. Let marinate at least 8 hours, but no more than 48 hours (so it doesn't get mealy)…the longer the steak marinates, the more tender it will be.
When ready to cook, remove steak from marinade and transfer the reserved marinade to a saucepan and set aside. Grill steak until you reach your desired temperature. We prefer medium rare, about 5-7 minutes per side on the grill at about 375 degrees depending on the size of the steak. Make sure to let your steak rest for at least 10 minutes when you remove from the grill before slicing.
While your steak is cooking, bring the marinade just to a boil then reduce heat to simmer for 5 minutes, or until marinade begins to thicken slightly. Bonus points if you have a side burner to do this on your grill.
To serve – slice your flank steak across the grain and serve with the reduced marinade. I love to serve with some grilled corn on the cob or some rice if you want a heartier meal.