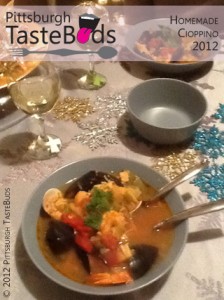 As I searched the Pittsburgh TasteBuds blog history today for the recipe that I used for our traditional "Feast of Seven Fishes" Cioppino that TasteBudA and I have adopted as our Christmas Eve tradition.  The only remnant was The Making of a Christmas Eve Dinner Tradition. I'm puzzled. I have taken pictures of our Cioppino each and every year.  Have I been slacking that much?  Apparently, yes.
Each year I think I've gone through the same motions: Find recipe.  CHECK! Select 7 fishes. CHECK!  Combine and cook. CHECK!  Take a photo. CHECK!  Post about it.  Oops.
This year will mark the 4th year that we will have made our Cioppino, but apparently we never really blogged about our experience making it.  As I go back through the timewarp that is my photos folder, I share with you what little I found today.