October 19 Update: SOLD OUT.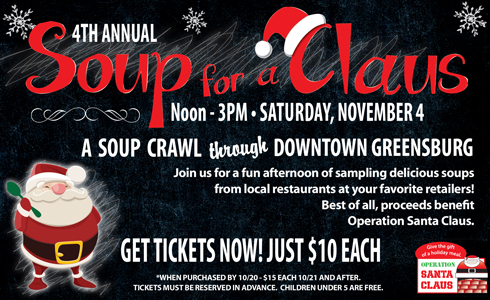 It's almost that time again for another soup crawl. Greensburg just finished a fun Greensburg Craft Beer Week and has another fun event coming up in just a few weeks. The Tribune Review presents the Operation Santa Claus "Soup for a Claus" event on Saturday, November 4, 2017 from 12:00 p.m. to 3:00 p.m. Tickets are $10 through October 21 and $15 thereafter. The event is projected to sellout at only 500 participants (as of Tuesday 429 tickets sold). Here is the Facebook Event.
We love our soup. We've done the soup crawls in South Side and Sewickley which are great events. Greensburg's on their fourth year and worth a shot as more non-chain restaurants continue to pop up east of Pittsburgh.
Think Greensburg is too far? Make a day of it. Find something fun to do like an escape room, axe throwing, pottery class or stop by the Westmoreland Museum. There is more to do than you think in "GBG"