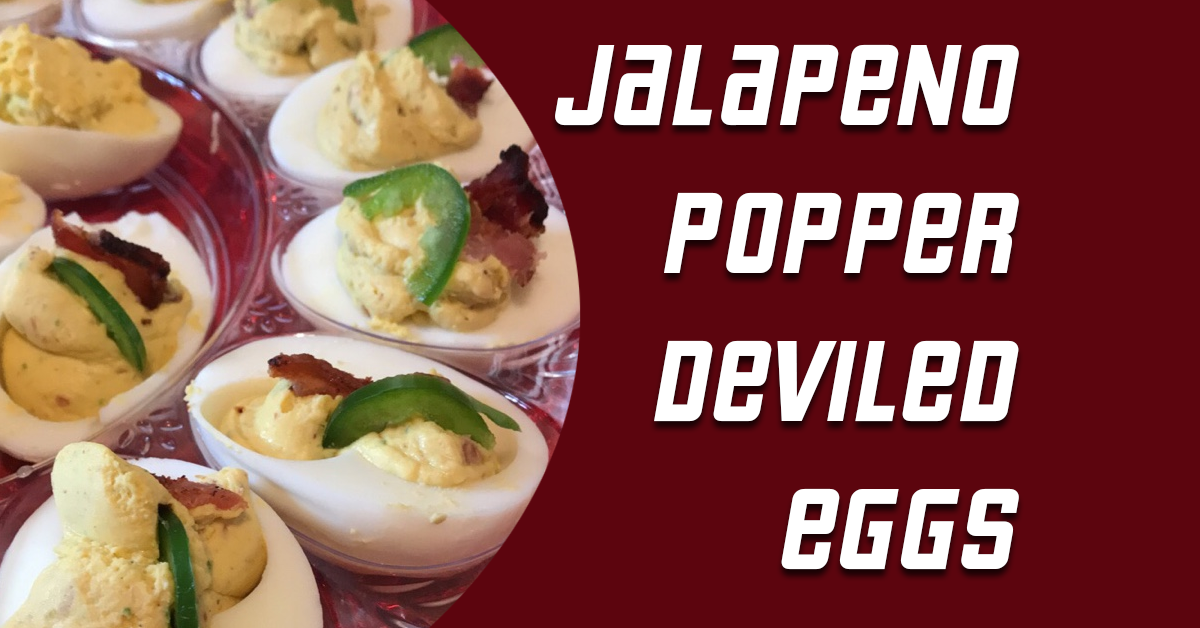 My new favorite party offering is a twisted deviled egg recipe which is super simple if you have the patience to boil eggs.  I started taking this to parties back at Thanksgiving time when my friends hosted their "Friendsgiving" celebration.  
The majority of the heat is with the thinly sliced, fresh jalapeno on top.  If your friends are nervous about the spice level, then simply provide them in a dish on the side for them to garnish themselves.
RECIPE
Ingredients
5

 

slices

 bacon (crispy bacon tips)

2

fresh

jalapenos

1

 

garlic clove,

 

minced

12 hard boiled

 eggs

3-4

 

tablespoons

 

mayonnaise

2 teaspoons vinegar – rice or apple cider
1-2 teaspoons mustard

pinch of cayenne pepper

pinch of salt

handful of pretzels, crushed
Instructions
Cook bacon until crispy (try this method) or use a nonstick skillet until crispy. Place on paper towels to sop up excess grease and allow to cool.
While cooking the bacon, de-seed and finely chop one fresh jalapeno.
Use about 1 tablespoon of butter or the bacon grease in a saute pan and par-cook the garlic and the chopped jalapeno for 1 to 2 minutes until slightly softened.
Cut eggs in half and remove egg yolks.
Combine egg yolks with mayonnaise, mustard, vinegar, salt and cayenne in a medium bowl. Use a fork to mash the egg yolks up well and mix them together with the other ingredients until smooth. 
(For this step, I use my Ninja food processor because it makes them extra smooth)
Stir in jalapeno, garlic and 3 of the bacon strips finely chopped.
Transfer mixture into a piping bag – a sandwich bag with a snipped corner is perfectly acceptable.
Evenly distribute the egg yolk mixture into the egg white halves.
Thinly slice remaining jalapeno and rough chop the final two strips of bacon.  Use as topping or garnish on each deviled egg.
Sprinkle pretzel dust over eggs for final touch.