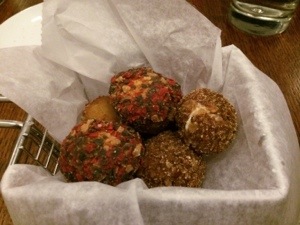 One of the most unique things I've had in a while has got to be the "Inside Out Chip and Dip" bites at Savory Hill in Moon Township. I ordered ordered the sampler which included 6 bites – a random collection of all four different bites.
The bites are essentially dips or spreads rolled into a ball and coated with a crunchy mixture – think Shake 'n Bake. The combinations of flavors are very approachable, as you would likely see them as appetizers on regular restaurant menus. Serving these as Bites is just one way that Savory Hill is deserving of its Eclectic Bistro tagline.
The four different bites are as follows:
Chips and Dip – Creamy french onion dip with crushed potato chips.
Spinach Dip – Cream spinach dip crusted in pita chips
Buffalo Chicken – Spicy buffalo chicken dip coated with crushed tortilla chips
Bacon Horseradish – Bacon, horseradish and white cheddar covered in bread crumbs
Eat 'em while they are hot, because like any hot dip, they lose their richness as they cool.
Continue to the PhotoBlog of the rest of our meal